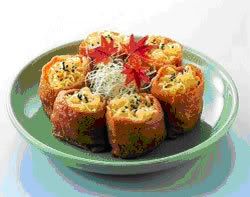 1. Ingredients:
Ramendao 1 pack
Square bean cured 6 pieces
black sesames some
white vinegar 2 table spoons
sugar 2 table spoons
2. Preparation method :
a. Soften the noodles, remove the water, add white vinegar and sugar;
wait until them cool down.
b. Stuff noodles in the sushi with 90% full and sprinkle black
sesames.
source: http://librarywork.taiwanschoolnet.org/gsh2007/gsh5112/new-eating.htm
Health Tips:
Black sesame seeds are a good source of essential fatty acids, protein, iron, and most importantly calcium. They are also known to be beneficial to the kidney and liver. For the vainer ones, black sesame seeds are also said to help prevent greying of the hair.