Fried Instant Noodles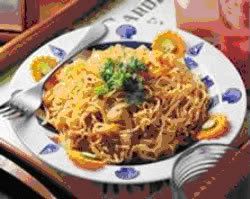 1. Ingredients:

pork slices 50 g
onion slices 1/2 cup
carrot slices little
cucumber slices little
green onion pieces 1 table spoon
coriander leave pieces 1 table spoon
salad oil 1 table spoon
water 1 cup
instant noodles noodles 1 pack
instant noodles minced pork pack 1 pack
instant noodles pepper salt powder 1 pack

2. Preparation method:

a. Pour hot water on instant noodles for about two minutes and dry
them.
b. Pour salad oil in the pot and heat it; put onion pieces and heat
it; put pork pieces, carrot pieces and cucumber slices and fry
them for 80% cooked level; add the noodles and water, fry them
until the soup is dry.
* Note
For this recipe, it is better to select the instant noodles with
minced pork which has local flavor. Adding the onion can remove the
oily smell of instant noodles after deep fry.
source: http://librarywork.taiwanschoolnet.org/gsh2007/gsh5112/new-eating.htm
Health tips:
Salad oil (also known as vegetable oil), such as olive and canola oil are higher in monounsaturated fats and polyunsaturated fats, which are "good fats" and help reduce blood cholesterol.